2023-2024 COHORT & MENTOR APPLICATIONS ARE OPEN
About DC HAPP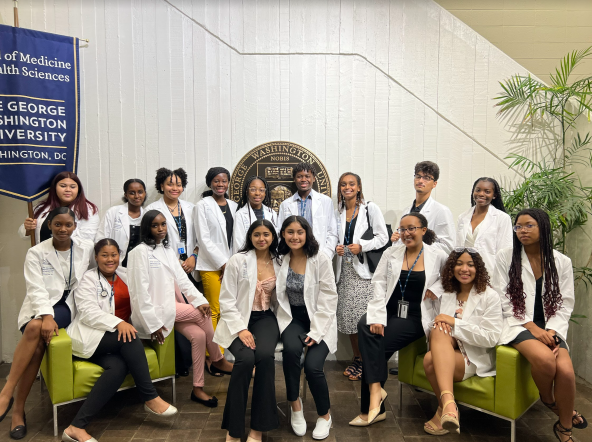 DC HAPP is a pipeline program coordinated by the George Washington University School of Medicine and Health Sciences Office of Diversity and Inclusion to increase access to healthcare careers and foster diversity in the medical field. Sixteen rising 12th-grade students attending Washington, DC, area public schools are selected to participate in the four-week summer experience based on their passion and potential for medicine. Students participate in a four-week summer experience and clinical shadowing.
DC HAPP scholars gain exposure to healthcare professions, learn hands-on medical skills, develop public health projects, and prepare for college applications and college life. Medical students, physicians, and other medical professionals serve as mentors, facilitators, and teachers.
DC HAPP seeks to:
Identify, recruit, and nurture talented District of Columbia area public school students from backgrounds underrepresented in medicine who are interested in pursuing careers in the healthcare professions.
Establish connections between healthcare professionals community, including, but not limited to, physicians, physician assistants, nurses, physical therapists, and medical researchers
Provide support and resources for program scholars to achieve post-secondary academic success leading to professional careers in the healthcare field
Build relationships between scholars and the George Washington University community
DC HAPP 2023 Cohort Application Information
The deadline to submit a completed application, including the student application form, teacher evaluation form, and non-teacher form, is Tuesday, January 31st, 2023, at 11:59 PM EST. The student application form requires two short essays, a list of activities, an unofficial transcript, and a student and family profile. Applicants can submit either two teacher evaluations or one teacher evaluation and one non-teacher evaluation. 
Student Application Form

Applicants must be rising high school seniors (currently enrolled high school juniors)
Must be in good academic standing (minimum 2.0 GPA)
Plans or interest to pursue a profession in the medicine and/or healthcare field
Identify as a student underrepresented in medicine 
Must commit to the entire summer experience from Monday, June 26th - Thursday, July 20th, 2022 (Dates subject to change)
Will commit to maintain contact and follow-up with mentor and program staff until high school graduation and beyond

Teacher Evaluation Form

Must be a teacher who has taught the applicant during high school

Ideally a math or science subject instructor

To the applicant, if both of your evaluators are teachers they should complete this form. 

Non-Teacher Evaluation Form

Must be an adult who knows the applicant well

Ideally an adult who has observed the applicant in a structured setting and knows about their interest in pursuing a medical or healthcare profession

Examples of a non-teacher evaluator

A guidance counselor, employer, religious leader, club/activity advisor or leader, athletic coach, internship director, or tutor, are all great adults to ask for a recommendation 
DC HAPP Community Health Project Publications
DC HAPP Articles
Mentor Application Information
The George Washington University
School of Medicine and Health Sciences Office of Diversity and Inclusion
DC HAPP
Ross Hall, Suite 730
2300 Eye Street, NW
Washington, D.C. 20037
Email: dchapp@gwu.edu