As the George Washington University (GW) School of Medicine and Health Sciences (SMHS) strives to make anti-racism an indelible part of its culture, the ARC Educational Series aims to help students, faculty, and staff better understand concepts such as anti-racism and structural racism through the following goals:
To increase learning on issues related to race, racism, and anti-racism.
To facilitate growth in the personal anti-racist domain.
To promote a culture where race and other intersecting identities are understood, valued, and have equitable standing. 
---
The 6th Annual GW SMHS Dr. Martin Luther King, Jr. Week Three Event Series
"Advancing the Dream: We Cannot Walk Alone." 
Tues., January 18th, Wed., January 26th and Thurs., January 27th, 2022
CLICK HERE TO REGISTER FOR EACH EVENT
Download SMHS King Week 2022 Virtual Background Option One (right-click to save)

Download SMHS King Week 2022 Virtual Background Option Two (right-click to save)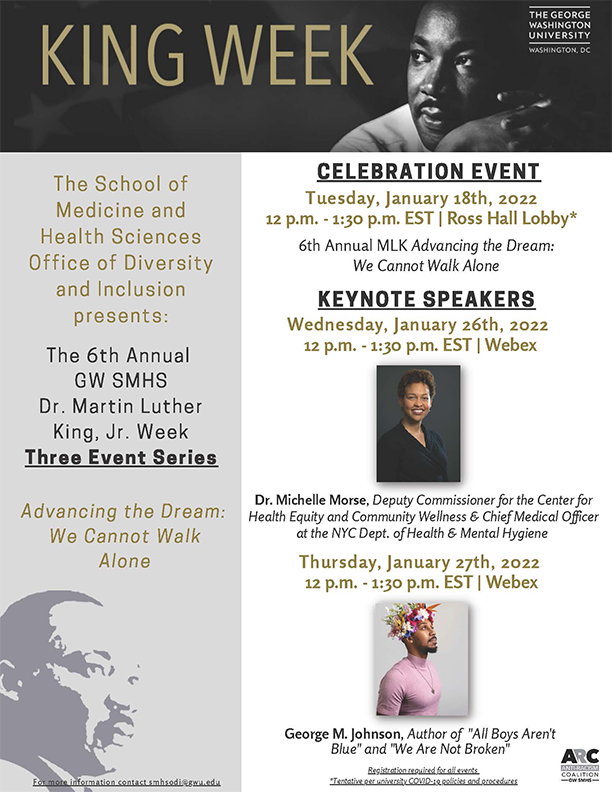 Celebration Event 
Tuesday, January 18th, 2022
Ross Hall Lobby
12 p.m. - 1:30 p.m. EST 
Join us for grab and go King Week celebration cookies
*Tentative per university COVID-19 policies and procedures 
Keynote Speakers
Wednesday, January 26th, 2022
Dr. Michelle Morse (She/Her), Deputy Commissioner for the Center for Health Equity and Community Wellness & Chief Medical Officer at the NYC Department of Health & Mental Hygiene 
Webex
12 p.m. - 1:30 p.m. EST 
Dr. Michelle Morse serves as the Deputy Commissioner for the Center for Health Equity and Community Wellness (CHECW) and inaugural Chief Medical Officer at the NYC Department of Health and Mental Hygiene (NYCDOHMH).  Dr. Morse is responsible for leading the agency's work in bridging public health and health care to reduce health inequities, guiding CHECW's place-based and cross-cutting health equity programs, and serving as a key liaison to clinicians and clinical leaders across New York City.
Dr. Morse is an internal medicine and public health doctor who works to achieve health equity through global solidarity, social medicine and anti-racism education, and activism. She is a general internal medicine physician, part-time hospitalist at Kings County Hospital, Co-Founder of EqualHealth, and Assistant Professor at Harvard Medical School.  EqualHealth builds critical consciousness and collective action globally, in the pursuit of health equity for all.  In 2015 Dr. Morse worked with several EqualHealth partners to found the Social Medicine Consortium (SMC), a global coalition which uses activism and disruptive pedagogy rooted in social medicine to advance health justice.  She served as Deputy Chief Medical Officer of Partners In Health (PIH) from 2013 to 2016 and now serves on the Board of Directors of PIH.  In 2018, Dr. Morse was awarded a Soros Equality Fellowship to launch EqualHealth and the SMC's global Campaign Against Racism.  From September 2019 to January 2021, she served as a Robert Wood Johnson Health Policy fellow in Washington, DC and worked with the Ways and Means Committee, Majority Staff, in the U.S. House of Representatives.
Thursday, January 27th, 2022
George M. Johnson (They/Them), Author of "All Boys Aren't Blue" and "We Are Not Broken"
Webex
12 p.m. - 1:30 p.m. EST 
George M Johnson is an Award-Winning Black Non-Binary Writer, Author, and
Activist located in the NYC area. George has written for major outlets including Teen
Vogue, Entertainment Tonight, NBC, The Root, Buzzfeed, Essence, Ebony, THEM,
and The Grio. They have also served as Guest Editor for BET.com's Pride month.
They were awarded the 2019 Salute to Excellence Award by the National
Association of Black Journalists for their article "When Racism Anchors your Health
in Vice Magazine, and recently named to The Root 100 Most Influential African
Americans in 2020. They are the author of the Bestselling Young Adult Memoir "All
Boys Aren't Blue" discussing their adolescence growing up as a young Black Queer
boy in New Jersey through a series of powerful essays. The book will also be
translated into French, Spanish, and Portuguese, with a UK distribution set for 2021.
George's next memoir, "WE ARE NOT BROKEN" is the vibrant story of George, Garrett,
Rall, and Rasul — four children raised by Nanny, their fiercely devoted grandmother.
The boys hold one another close through early brushes with racism, memorable
experiences at the family barbershop, and first loves and losses. And with Nanny at
their center, they are never broken. It is scheduled for release on September 7th.
Their book was optioned for Television by Gabrielle Union's "I'll Have Another
Productions" and Sony TV in June of 2020. George serves as the executive producer
and co-writer for the upcoming series based on his real-life college experience at
the HBCU Virginia Union University.
George is also a proud HBCU alum twice over, and a member of Alpha Phi Alpha
Fraternity Incorporated.
To view previous Educational Series events, press the Past Sessions tab. 
---