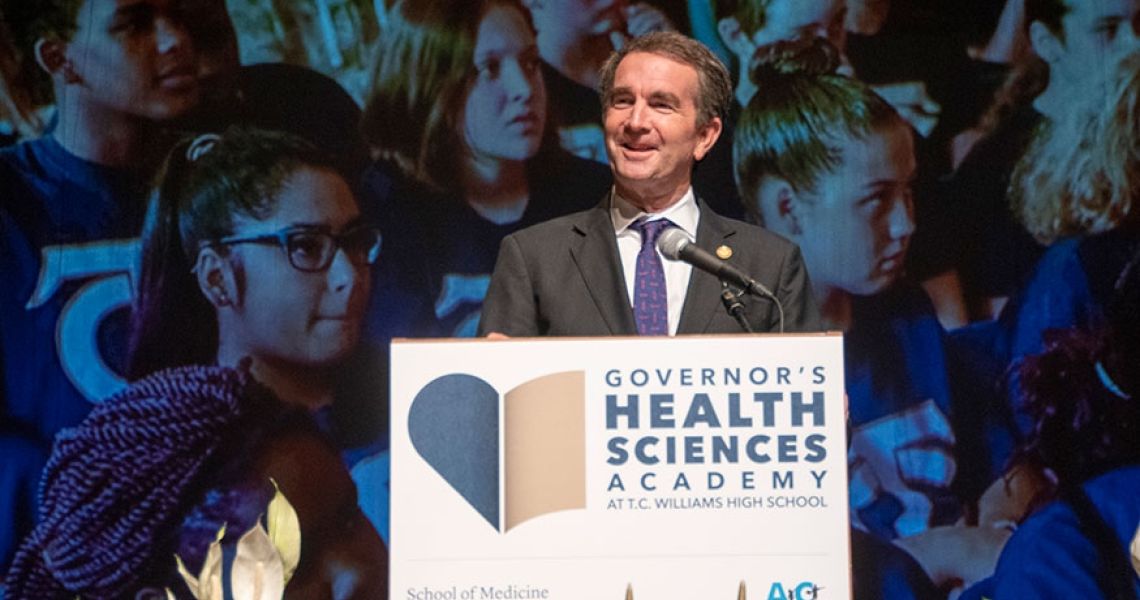 As large gold-colored scissors cut into a white ribbon adorned with the logo of the Governor's Health Sciences Academy at T.C. Williams High School, cheers echoed across the auditorium from family, friends, students, and government and community leaders celebrating the official launch of the program.
The academy gives high school students the opportunity to pick from seven health sciences career pathways and earn up to 18 college credits from the George Washington University (GW) School of Medicine and Health Sciences (SMHS). The pathways include biomedical informatics, emergency medical services, medical laboratory sciences, nursing, pharmacy, sports medicine, and surgical technology.
Months of discussions, starting in December 2016, led to the momentous day in October, which featured numerous speakers, including Virginia Gov. Ralph Northam (D).
"I remind people every day that no person, no family should be one medical illness away from financial demise," Northam said during the event. "Everyone deserves affordable, quality health care, and that's where the students here in this program can play a vital role. To the academy teachers, another critically needed profession, thank you for everything you are doing for the students. … In Virginia, we are working hard to make sure all Virginians have access to education that is affordable, accessible, and delivered in a timely fashion."
As a doctor himself, a child neurologist, Northam remarked on the importance of exposing young people to health care careers, joking that he convinced one of the 100 academy students sitting on the stage who expressed an interest in pediatrics to consider pediatric neurology.
"Our job is to teach and train our youth for these 21st century jobs," he added, "and we need a workforce ready to fill the jobs of the 21stcentury and there will always be a need for trained health care workers."
The U.S. Bureau of Labor Statistics estimates an 18 percent growth in health care careers through 2026, resulting in 2.3 million new jobs in the United States.
In addition to the remarks from Northam, event attendees also heard from GW President Thomas LeBlanc, who announced another exciting development for the academy: the support of a more than $3.1 million grant from the Health Resources and Services Administration for the development of the GW Health Careers Opportunity Program.
"Today with the start of this Governor's Academy, we are beginning the process of tackling a health care workforce challenge. GW has been a dedicated academic partner in this region for nearly 200 years, and we will continue to strive for preeminence in all of our endeavors," he said.
Through the academy, students will have a bevy of opportunities upon graduation. They can choose to move directly into entry-level health careers; matriculate into a community college and earn an associate's degree; transfer to SMHS through a guaranteed admissions agreement with college credits toward earning a bachelor's degree; or enter a bachelor-completion program at GW in partnership with select community colleges in Virginia and Maryland.
SMHS has long been dedicated to improving the health of local, national, and global communities through a mission of education and the advancement of knowledge through research and discovery, said Jeffrey S. Akman, MD '81, RESD '85, vice president for health affairs, Walter A. Bloedorn Professor of Administrative Medicine, and dean of SMHS.
"Though this partnership and the support of the community and the Commonwealth of Virginia, we will do just that," he added. "We're building a robust pipeline of students who will become the next generation of health care professionals and the kind of leaders who will improve the health of this region. … We believe this partnership will serve as a model for future opportunities with communities lead workforce development at the center."
At the end, one piece of advice from Northam echoed for the students: "The future's yours, so aim high. … You can be whatever you want to be, we're so proud of you, keep up the great work. Congratulations and good luck to all of you."
To learn more about the Governor's Health Sciences Academy at T.C. Williams High School and the partnership between the GW School of Medicine and Health Sciences and ACPS, visit smhs.gwu.edu/hssp/ or acps.k12.va.us/healthsciences.