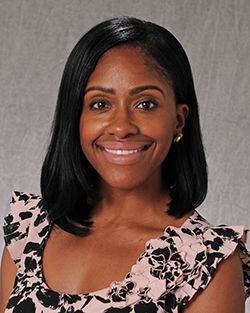 Congratulations to Maranda Ward, EdD, MPH, visiting assistant professor of Clinical Research and Leadership at the George Washington University (GW) School of Medicine and Health Sciences, for being selected to serve on D.C. Mayor Muriel Bowser's Commission on Health Equity.
Serving on the Commission on Health Equity, representing Ward 8, will allow Ward to marry her education and service efforts to advance health equity, while also giving her the opportunity to make a positive impact in the place she calls home.
As a member of the commission, Ward will make recommendations to the D.C. Department of Health, D.C. City Council, and Mayor Bowser that address health inequities across the District. The role will allow her also to "apply my health equity based academic scholarship and service at GW beyond campus in meaningful ways," she said.
"I am heavily invested in the conditions that shape the health outcomes and well-being of Ward 8 residents, and serving on this commission will allow for me to translate my service, research, and teaching into local-level policy and action," she said.
Ward added that serving on the Commission on Health Equity will allow her to stay abreast of important policies affecting the allocation of services, resources, and facilities directly impacting the health of Ward 8 residents.
Her experience, including as the subject matter expert on heath equity in the Department of Clinical Research and Leadership at the GW School of Medicine and Health Sciences, makes her a perfect candidate for the position. Through her work, Ward often is asked to host trainings, talks, and workshops on and off of GW's campus related to civic engagement.
Ward applied for the position while a resident of Ward 7 and an Advisory Neighborhood Commissioner for the 7B03 district. She received support for a Ward 7 seat and received a recommendation from council member Vincent Gray; she was then appointed to fill the Ward 7 seat. However, due to a significant time lapse between the posting of the appointment and the swearing-in ceremony, she moved to Ward 8 and thus asked if she could be considered for the vacant Ward 8 seat.
The council unanimously voted to move her to the Ward 8 seat in December.