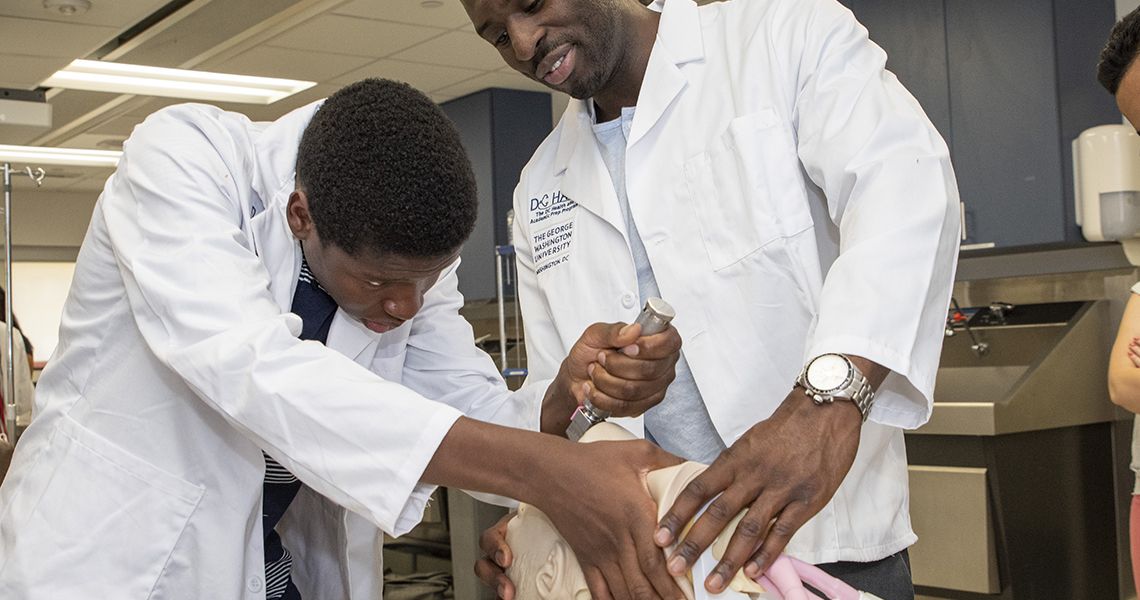 Compassionate is the first word that comes to mind when her family thinks about her, says Daviana Robles-Monge, a freshman at T.C. Williams High School in Alexandria, Virginia. Kindness is important to her, helping people and offering a shoulder to lean on whenever and wherever she can, and that is what's leading her toward the health sciences.
"Ever since I was little, I knew I wanted to do something in health care. Recently, surgery has been one of my main goals, especially pediatrics," Robles-Monge says confidently, her wide smile revealing a bright set of braces at odds with her mature demeanor.
It's an impressive goal for a young teen, but one more attainable than ever thanks to the new Governor's Academy of Health Sciences at T.C. Williams High School, which was established through a partnership between Alexandria City Public Schools and the George Washington University (GW) School of Medicine and Health Sciences (SMHS).
But Robles-Monge isn't the only young person whose dreams of higher education and a medical career are buoyed by SMHS. Visit the GW Foggy Bottom Campus on a hot day in July and you'll see white coat-clad teens roaming Ross Hall, conducting research in labs, or learning to draw blood and performing CPR in the Clinical Learning And Simulation Skills (CLASS) Center, all participants in various pipeline programs offered throughout the school.
In addition to the larger programs, SMHS hosts a variety of smaller, more specialized offerings, such as the Students Attending Thoracic Surgery program, run by Keith Mortman, MD, associate professor of surgery. Originally created to teach high school students about the dangers of smoking, the curriculum has grown to include educating students about health care professions.
Then there's the Rodham Institute's Health Education and Leadership Program (HELP), which was designed to support children of GW Medical Faculty Associates staff, many of whom come from underserved communities in Wards 7 and 8.
This program is year-round and consists of a weeklong session during spring break, a back to school program, and monthly professional development and service opportunities on Saturdays throughout the year. Students receive direct skills-based instruction from industry professionals, faculty, graduate medical education trainees, and medical students. One hundred percent of HELP alumni have graduated from high school.
Other programs, such as Camp Cardiac, offer a sample of the medical school experience to high school academic all-stars interested in exploring careers in medicine. The weeklong camp, led by medical students, steeps participants in the workings of the heart, providing an excellent starting point for those interested in medicine.
SMHS is laboring to create pipelines to success as unique and individualized as the high school and college students who participate in them. Whether that success is measured as being the first in their family to enter college, discovering a health care career suited to their passion, or earning a coveted white coat, it's the responsibility of SMHS to give future generations the opportunity to achieve their dreams.
"It's important for every institution of higher learning to help develop the group of young people who will replace us one day," says Yolanda Haywood, MD, RESD '87, BS '81, senior associate dean for diversity and inclusion, associate dean for student affairs, and associate professor of emergency medicine at SMHS.
Upward Bound
Although not all students seek health care careers, they all have the potential for success in whatever path they choose. Success that's supported through one of the oldest pipeline programs offered at SMHS: Upward Bound.
The program, based at SMHS for more than two decades and the only one housed within a university medical school, began with the passing of the Economic Opportunity Act of 1964.
Upward Bound serves D.C. public school students in Wards 5, 6, and 7, and parts of Ward 8, as well as those in neighboring Prince George's County, Maryland. It offers tutoring sessions, a Saturday academy during the school year, and a six-week summer immersion program. It provides an added layer of support for students as they prepare for and navigate through college. It helps students explore their interests across all careers and industries.
In addition to classes in English, mathematics, science, computers, and SAT preparation, Upward Bound students participate in college readiness workshops and travel to visit other universities. But the program also offers students a glimpse at the abundant variety within the academic world. When they graduate from GW's Upward Bound program, students have learned to suture, toured basic science laboratories, and been paired with medical and health sciences student-mentors.
The program also gives students information about health issues that they can take home to their family and community, says Grace Henry, EdD '12, director of the SMHS Office of Diversity and Inclusion and adjunct assistant professor of medicine.
Inez Denton, a senior at Gwynn Park High School in Prince George's County and an Upward Bound participant, notes the importance of the support the program offers. "If you don't have a strong foundation at home, you come here and you have someone to talk you through college and things that are necessary for life."
DC Health and Academic Prep Program (DC HAPP)
The help of a mentor can go a long way toward making the unimaginable accessible, according to Aida Roman. A second-year MD student at SMHS, Roman moved to the United States from Peru when she was 16. She had to learn about different health care professions on her own, just as she had to work through the college application process without help. A mentor, she says, would have made it all easier. That is why she spent her summer with the DC HAPP program, to offer the guidance that might have made her own journey a little easier.
"I always feel compelled to give back, and this is my way to do that," she says.
The program, coordinated by the SMHS Office of Diversity and Inclusion, works to increase access to health careers and expand diversity in the medical field. It launched in 2009 with funding for two years through a congressional grant administered through the U.S. Department of Education. Although it was successful, when the grant ended, so too did the program. In 2015, however, SMHS found the funds to bring it back. Since its return, 34 out of 35 DC HAPP alumni from the 2015 and 2016 cohorts have gone on to attend a two- or four-year college.
Participating high school students have the opportunity to spend time in the CLASS Center, where they get hands-on experience in a variety of areas, including intubation, drawing blood, and even assisting in a mock birthing process. They also earn CPR certification and learn about health care careers at organizations including the DC VA Medical Center, Children's National Health System (Children's National), and the Booz Allen Innovation Lab.
"The students don't necessarily know if becoming an MD is going to be the right fit for them, and we're able to expose them to a variety of careers in health care," says Jinny Jang, MA '17, assistant director of the Office of Diversity and Inclusion at SMHS.
Governor's Academy of Health Sciences
The Governor's Academy of Health Sciences at T.C. Williams High School, endorsed by the commonwealth of Virginia, opened its doors in the fall of 2018 for its inaugural class of 103 students who want to enter the health care field, no matter which path or profession they choose.
"We are excited to explore a diverse array of health care careers available to the academy students. By uncovering their individual strengths and interests, we can help them set clear educational goals and network with professionals in the respective field," says Reamer L. Bushardt, PharmD, PA-C, senior associate dean for health sciences at SMHS. "These students represent the future of our regional health care workforce, and GW is making a strategic investment in each one of them."
Academy students spend their first and second years learning about health sciences professions and medical terminology before choosing one of seven career pathways: surgery, nursing, biomedical informatics, sports medicine, emergency medicine, pharmacy, or medical laboratory sciences.
"The students are excited to have this opportunity," says Laura Evans, RN, MSN, an academy instructor who teaches courses in medical terminology and anatomy. "It's been rewarding to see how hard the students have been working already."
Through the academy, students have many options as they look to the future. They can earn certification to enter the health care workforce, matriculate into community college, or transfer to SMHS through a guaranteed admissions agreement. Students interested in the health sciences are eligible to apply for the academy, and they take typical high school classes, such as math, English, history, and a foreign language, alongside college-level science and health care courses.
GW Summer Program Advancing Research on Cancer (GW-SPARC)
Armando Ruiz-Justiz, a sophomore at the University of Puerto Rico, says he knows many people who have suffered from cancer, and it is an area of care that he has been interested in pursuing for a long time.
After his summer as a participant in GW-SPARC, his path forward has more clarity. "This is going to open up my career opportunities in the future, including when I apply to an MD or MD/PhD program," he says.
Open to undergraduates who are underrepresented in the biomedical sciences, GW-SPARC exposes students to cutting-edge research and education on health care disparities.
Students perform research in GW Cancer Center laboratories focused on cancer immunology and immunotherapy, cancer biology, and cancer engineering and technology.
"Our goal is to support these students in their completion of a STEM bachelor's degree and support them in their goals for graduate work," says Alison Hall, PhD, associate dean for research workforce development at SMHS. Achieving that, she adds, will boost the diversity among the pool of students pursuing biomedical research PhDs.
"That's the intention of this program, and I hope graduates will join our PhD and MD programs. We hope to add programs like this at GW in the future to accomplish our goal of diversifying scientific research," she adds.
Ruiz-Justiz says his mentor during the program, Rohan Fernandes, PhD, assistant professor of medicine at SMHS, made him feel like a part of the team, and not just a student. Ruiz-Justiz spent the summer coding nanoparticles with a protein and then introducing them into tumor cells to try to get a response.
Just a few weeks into the experience, Ruiz-Justiz adds that the program exceeded his expectations. "It's more than a research program," he says. "We get to hear from other students' mentors, we get to participate in a book club, there are seminars we attend. There's so much going on."
Medical Laboratory Sciences Summer Immersion
With the prospect of a 16 percent growth in the field in the next six years, the medical laboratory sciences are an exceptional choice for students interested in a scientific career.
It's why leaders in the SMHS health sciences programs are eager to offer prospective students the chance to dip their toes in this area of study through the Medical Laboratory Sciences Summer Immersion.
The program immerses students in the laboratory skills and techniques essential for success in any scientific career path.
"Every day they are doing various lab techniques focused on disease and disease diagnosis," says Marcia Firmani, PhD, interim chair of the Department of Biomedical Laboratory Sciences, director of the Medical Laboratory Sciences blended and graduate programs, and assistant professor of biomedical laboratory sciences. "They also get a group study project that they work on throughout the week, and on the last day of the program they present on the disease."
Every summer there are about 48 students per section, with one section running in June and one in July, says Firmani. The program is open to high school students and local community college students.
"These students are very interested in medicine and health sciences," Firmani says. "We are trying to attract more students to come to GW and get their bachelor's degree in medical laboratory sciences."
Mentored Experience To Expand Opportunities in Research (METEOR)
Physicians who also work as researchers can bring vital viewpoints to the medical workforce. They are a crucial part of health care, but they are also an underrepresented one.
The METEOR program offers incoming SMHS MD program students from underrepresented backgrounds a summer research experience, with the goal of sparking an interest in medical research early in their training. Students pursue a six-week pre-matriculation summer research internship with SMHS mentors to guide them along the way.
This past summer, clinical partner Children's National also launched a version of METEOR geared toward underrepresented high school students. Students take part in weekly team meetings with their mentorship teams, have shadowing opportunities, and attend a summer student lecture series.
"Through this experiential mentored research experience, augmented with an inquiry-based curriculum, college preparation, and other experiences, we hope to stimulate students to pursue careers in the biomedical sciences," says Rachel Smilow, program lead for the Center for Translational Science at Children's National.